VA - Dwelling Of Duels - December 2008 - MAGFest 7 Sidescroller (2008)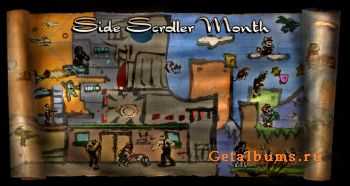 Исполнитель:
VA - Dwelling Of Duels
Альбом:
December 2008 - MAGFest 7 Sidescroller
Год выхода: 2008
Страна: various
Жанр: Instrumental, Video Game Metal/Rock
Качество: 128-320 kbps
Треклист:
[Позиция. Исполнитель: Игра - Название трека]
01. Shnabubula: SMB, SMB3, SMW, MMX - Playing Super Mario World While Taking Mushrooms
02. Brian Davis: Bucky O'Hare - Let's Croak Toads!!!
03. Prince of Darkness, GuitarBizarre, Chris Feener: Actraiser - A Coele Usque Ad Centrum
04. norg: Metal Slug - Allen O'Neil and Nario Take an Afternoon Stroll Through a Field of Poppies for a Picnic Lunch of Wine, Cheese, and Whale Face
05. Stemage, Danimal Cannon, KBart: TMNT 3 - BTMNTBAMLOL
05. jaxx: Storm of Progear - Black Sky Jewel Harvest
07. BrainCells: Revenge of Shinobi - Pump!
08. darmock: Sonic the Hedgehog - Stay Away From My Special Zone AKA Masatotarkus
09. ansgaros: Journey to Silius, Batman, Bionic Commando, Werewolf - To Reminisce is to Relive
10. Ryan8bit: Double Dragon - My Girl Needs a Gut Punchin'
10. cetera: Amagon - Lower Your Expectations by 1dB
12. Hoha: Shatterhand - Shatter My Brain With My Hands
12. SnappleMan: Super R-Type - Where No Mann Has Gone Before (part 1)
12. virt: TMNT 1 - Enter the Turtle
15. zangderak, sparky: U.N. Squadron - Gates of Hell
16. DrumUltimA: Sonic the Hedgehog - Sonic Smooth
17. zyk0: The Lost Vikings - Funk Like an Egyptian
18. M-H: CVII: Belmont's Revenge - Belmonts and Bondage
19. Geoffrey Taucer, Jose the Bronx Rican: Donkey Kong Country 2 - Trapped in the Mines
19. cacomistle, chronolever, TheBeautyofGrind: Super Maro Land - Muda Morning
21. XMark: Sonic the Hedgehog 2 - Mystic Chemicals
22. Harjawalder: Dragon's Lair - Der Orden vom heiligen Geist
22. Skummel Maske: Shatterhand - Shatter This!
23. thesamareaye: Castlevania - The Vampire's Lament
24. Hope Fails: Power Blade - This Burden Grows, but Still I Can Fly
24. ryanisfootdrums: Alisia Dragoon - The Dragooner's Harp
26. Corax: Lifeforce - Glorious Gradius
26. Dr. Manhattan: Golden Axe 2 - Burning Villages Down
28. Wizwars: Castlevania - Time's Up!
28. tibone: Mega Man - Elecman Likes Guitars
30. bjkmenu: Earthworm Jim - Groovy Jim Hurts My Ear
31. TheoConfidor: Mega Man ZX: Advent - Dance of Destiny
32. Rasgar: Mega Man Zero 3 - Dance of the Winter
33. Mattias Holmgren: Blaster Master - Mastered Blaster
35. Nario: Mega Man 2 - Crash Man Takes Piano Lessons
35. dasaten: Castlevania: Portrait of Ruin - Sticky Portrait of Michiru Yamane
Бонус:
. Izei: Ragnarok Battle Offline 2 - There's no n00bs when I play offline
. Skummel Maske: Shatterhand - Shatter My Synth Lead
. ansgaros: Thunder Force 3 - Seiren
. virt: Friday the 13th - TORCHROLL
. zyk0: Mega Man 2 - Boxing with Killer Robots
Dwelling of Duels это ежемесячные соревнования между кавер-музыкантами в сфере VGM (Video Game Music). Каждый месяц устраивается музыкальный поединок на заданную тематику, каждый третий месяц (Free Month) - свободная тема. Все исполняемые треки - кавер-версии на музыку из видео-игр. По результатам голосования определяются победители; одно место может быть занято несколькими исполнителями. Также в "альбом" включаются сделанные по фану внеконкурсные треки.
Информация
Посетители, находящиеся в группе Гости, не могут оставлять комментарии к данной публикации.