Sepultura - Chaos (2002)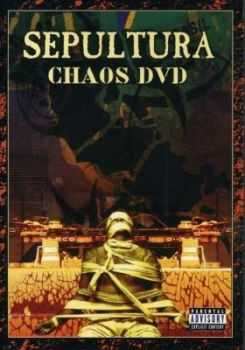 Исполнитель:
Sepultura
Альбом:
Chaos
Год выхода: 2002
Страна: Brazil
Жанр: Thrash-Metal
Время: 3h
Качество: DVD9 Format:DVD Video Видео: MPEG Video Version 2; 720 X 576 ( 4:3 );25 fps; 5943 kbps; Аудио: PCM, Audio Coding 3; 1536 Kbps; 6 channels; 48.0 KHz
Размер: 6.65+2.50GB
Треклист:
Chaos DVD finally brings 3 hard to find Sepultura video releases together on one DVD. The DVD is almost 3 hours long and features expanded menus, discography, and some of the best Sepultura footage ever caught on film. It includes the 1991 release "Under Siege" which is an hour long live performance from Barcelona Spain on May 31 1991, the 1995 release "Third World Chaos" which features videos and live performances, and the 1997 release "We Are What We Are" which features videos from the Roots album.
One of the most loud and menacing bands in the world, Brazil's Sepultura mastered a sound of eardrum busting sonic thrash. Pounding and aggressive, the band have sold more than 5 million records throughout their career. CHAOS is a compilation of 3 rare videos. The first, UNDER SEIGE, features a top notch live concert performance filmed in Barcelona, Spain in 1991. The second, THIRD WORLD CHAOS is a 1995 compilation of music videos and live clips from Brazilian, Red Rocks, and the Castle Donnington Festival. Finally, the third, WE ARE WHAT WE ARE, features several music videos off the band's 1997 ROOTS album.
Under siege ( Live in Barcelona ):
01.Intro
02.Arise
03.Desperate cry
04.Dead embryonic cells
05.Mass hypnosis
06.Altered state
07.Inner self
08.Escape to the void
09.Troops of doom
10.Beneath the remains
11.Orgasmatron
Third world chaos :
01.Orgasmatron (Live)
02.Slave new world
03.Kaiowas (Live)
04.Refuse/resist
05.Territory
06.Crucificados pelo sistema (Live)
07.Arise
08.Dead embryonic cells
09.Holiday in Cambodia (Live)
10.Inner self
11.Policia (Live)
We are what we are:
01.Roots bloody roots
02.Ratamahatta
03.Attitude
Информация
Посетители, находящиеся в группе Гости, не могут оставлять комментарии к данной публикации.