V.A. - Retard Party (2007)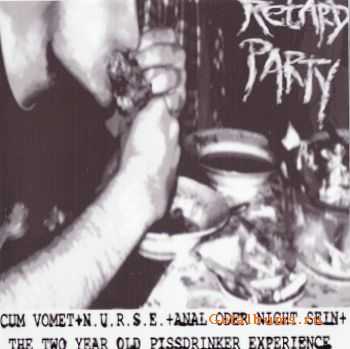 Исполнитель:
V.A.
Альбом:
Retard Party
Год выхода: 2007
Страна: Mexico / Serbia / Germany / Australia
Жанр: Cybergrind
Время: 22:06
Качество: mp3@VBR128-320 kbps
Размер: 24 Mb
Треклист:
CUM VOMET
01. Gunaycatapillericecreamcake
02. New Wave Contra Speed Metal
03. Possessed Mas Drogas
04. Kawaii Nihonjin Pantel
N.U.R.S.E.
05. Anorexia Fellatio
06. Prosttheticracked
07. Mondo Toplesa, Rusty Needles + Gangrenas
08. Surreal Haemorrhage
ANAL ODER NICHT SEIN
09. Three Songx in the Same Hole
10. Zombieschnitzel
11. Affentheater in S'dlichem Norden
12. Anal La Ola
13. Kabokitunte
THE TWO OLD PISSDRINKER EXPERIENCE
14. I'm Fucking Insane
15. The Lord Of The Polka Win Take Torturous Revenge On Whoever Fucks Up In The Middle Of One Of His Songs
16. Paranoia Of Little Men Planting Subliminal Messages In My Mind To Buy Things I Don't Want
17. Polka Part II - The Conga-Polka War...
18. Death And Power: Cheese Included!
19. 2.4.06: Day Of The Martians
Информация
Посетители, находящиеся в группе Гости, не могут оставлять комментарии к данной публикации.