Lepo Sumera - Mushroom Cantata & other choral works (2005) flac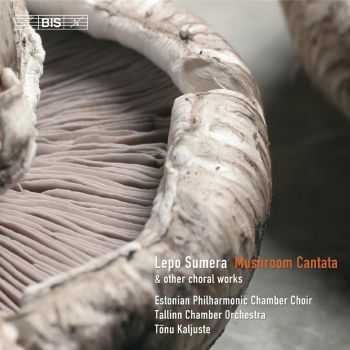 Artist
: Lepo Sumera
Title Of Album
: Mushroom Cantata & other choral works
Year Of Release
: 2005
Label
: BIS
Genre
: Classical
Quality
: FLAC (image+.cue+.log)
Bitrate
: Lossless
Total Time
: 01:08:54
Total Size
: 388 MB (Scans)
WebSite
:
Lepo Sumera
Having witnessed live performances and a series of choral masterclasses under the brilliantly musical and urbane leadership of Tõnu Kaljuste, not to mention dozens of excellent recordings, my expectations for this nicely presented BIS CD were heightened more than somewhat.

I have been a big fan of Estonian music for a while now, and, comparing these pieces with Sumera's symphonies and chamber music, I was pleasantly surprised by an even greater expressive freedom in his choral writing. Estonia has a very strong vocal tradition, and Sumera's work on this CD engages very much with a direct, sometimes even confrontational manner of communicating text, though without quite the blood, sweat, iron and tears of Tormis. His world often returns to an almost Medieval sounding base, which is expanded and extended with effective modern techniques ranging from controlled chaotic 'crowd scenes' to tonally non-specific melody lines, clusters and close chromatic harmony, to rumbling bass glissando textures and even clapping á la Steve Reich.

Concerto per voci e strumenti was commissioned by Tõnu Kaljuste, and has a text by Doris Kareva which is made up of phonetically associated Estonian words and names. This untranslatable text throws up a few amusing and unintentional cultural divisions: the opening 'Kirikiri' sounded to me like someone calling to an errant cat, whereas we are told that, to an Estonian, this will (to those initiated in the folk tradition) call to mind the song of a nightingale. Textual ambiguity aside, this is a powerful work. The rhythmic tumult of the 'Furioso' first movement is taken over by an extremely moving 'Moderato', which builds from male murmurings to call-like figures from the upper voices, the whole building to an ecstatic climax which brought tears to my eyes. The final 'Allegro misterioso' has the atonal choral writing I mentioned earlier, and has the quality of some kind of ritualistic ceremony. The clapping/vocal textures at 3:30 had me thinking of Reich's 'Tehillim', but at no point – even under torture – would I suggest that this music is in any way derivative.

'Kui tume…', once again commissioned by Kaljuste, is purely for 'a capella' choir, and is based on a classic Estonian poem from 1894 by Juhan Lev. Estonia is a land whose uneasy relationship with its giant neighbour Russia has thrown up a great deal of art which is symbolic of freedom and resistance. This poem is given a gentle, almost introverted setting – not without contrast – but expressing underlying strength rather than overt resistance.

Scratch a performance or a recording led by Tõnu Kaljuste, and you'll find his influence permeating like the letters on a stick of rock through almost every material aspect of the final result. The Mushroom Cantata is presented here in a version requested by Kaljuste, the original first movement having been for bass singer and wind quintet. The subsequent movements appeared over an interval of several years, but the whole is unified by the text, which amazingly consists almost entirely of the Latin names of mushrooms. The spare percussive instrumentation sometimes has an almost Orff like colouration, and the choral writing carries the absurdity of the text with deadly seriousness – small gatherings of deadly poisonous fungi being granted apocalyptic moments, others being transformed by plainchant-like counterpoint, while the piano and tympani clatter and rumble underneath with dry menace.

The final piece, Island Maiden's Song is in some ways the most typically Estonian. The open intervals and penetrating and fragmentary melodic lines simultaneously carry the undulating waves of the sea and its pervasive salt breath straight into the ears of the listener. The story is of course a tragic tale of incestual seduction and suicide, but the story of the young girl is told to her parents by the sea itself, through symbols and allegories. The text is layered through the voices of actors, who live in a dry acoustic close to the wires behind your loudspeakers, and the choir, which can be distant and ethereal, or dancing on your shoulders like the wicked imp in a Tom and Jerry cartoon – except the effect can be quite frightening, really.

This CD is a marvellous work of art. As a concert programme it would be unforgettable. As a disc you can pull down from your shelf when the mood takes you it is as irreplaceable as a volume by a favourite author – be sure never to lend it to anyone, you're unlikely to get it back!

Dominy Clements @ musicweb-international
Tracklist:
01. Concerto Per Voci E Strumenti - I. Furioso [0:03:35.51]
02. II. Moderato [0:06:09.04]
03. III. Allegro misterioso [0:04:44.28]
04. Kui Tume Veel Kauaks Ka Sinu Maa [0:03:25.53]
05. Seenekantaat - I. Carmen veris [0:06:09.14]
06. II. Timor [0:04:23.22]
07. III. Carmen autumnus [0:05:54.30]
08. IV. Luxuria [0:04:34.10]
09. Saare Piiga Laul Merest [0:29:58.49]
Download / Скачать:
Turbobit.net 1
Turbobit.net 2
Unibytes.com 1
Unibytes.com 2
Информация
Посетители, находящиеся в группе Гости, не могут оставлять комментарии к данной публикации.