A Global Threat – What the Fuck Will Change? (1999)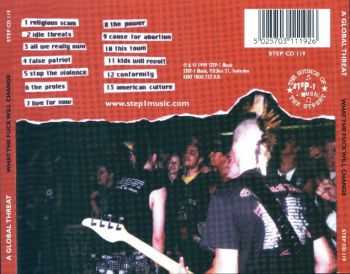 Исполнитель: A Global Threat
Альбом: What the Fuck Will Change?
Жанр: HC/Punk, Street Punk
Год выхода: 1999
Страна: Boston, Massachusetts, USA
Время: 25:29 min
Качество: CBR 192 (320)
Размер: 60,25 MB
Треклист :
1. Religious Scam
2. Idle Threats
3. All We Really Own
4. False Patriot
5. Stop the Violence
6. The Proles
7. Live For Now
8. The Power
9. Cause For Abortion
10. This Town
11. Kids Will Revolt
12. Conformity
13. American Culture
14. What's Left Now?
15. Who's To Blame?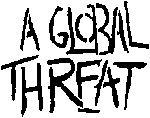 Bryan – vocals
Mark – vocals
Pete – guitar
Brett Threat – bass guitar (tracks 1–9)
Gabe Astard – bass guitar (tracks 10–15)
Mike – drums
Tracks 1–8 are the original songs for the What The Fuck Will Change? CD EP on ADD Records.
Tracks 2,8,and 9 were released as the songs on the split EP with The Broken on Controlled Conscience Records.
Tracks 10–13 are previously unreleased outtakes from the Until We Die studio sessions. Different versions of these appear on The Kids Will Revolt.
Tracks 14 and 15 appear only on the 2002 Punk Core release of the album. They were previously released on the split EP with The End on Anarchrist Records. A different version of "Who's To Blame?" appears on Until We Die.
Информация
Посетители, находящиеся в группе Гости, не могут оставлять комментарии к данной публикации.