Biggy Jiggy – Exclusive Tunes 3D 2 (2012)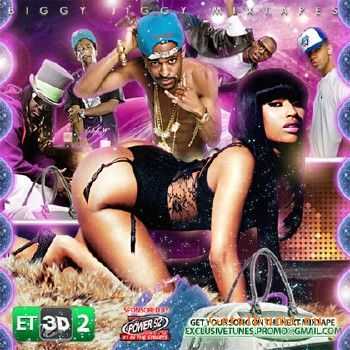 Исполнитель:
Сборник
Страна:
USA
Альбом:
Biggy Jiggy – Exclusive Tunes 3D 2
Жанр:
Rap | Hip - Hop
Год выхода:
2012
Формат:
mp3 | 192 Kbps
Размер:
207.04 Mb
Треклист:
1.Swizz Beatz – Street Knock (Feat. ASAP Rocky)
2.Nicki Minaj – Beez In The Trap (Feat. 2 Chainz)
3.Obie Trice – Richard (Feat. Eminem)
4.T. I. – I Need Dollas
5.Exclusive Tunes 3D Promo
6.Snoop Dogg – Rollin In My Malibu
7.Drake – A Little Flavour (GQ Freestyle)
8.MGK – Warning Shot (Feat. Cassie)
9.Nicki Minaj – Right By My Side (Feat. Chris Brown)
10.DJ Haze – Coast To Coast (Feat. Joell Ortiz, Cassidy, Nipsey Hussle, Dro Pesci)
11.Dorrough Music – That Lowend (Remix) (Feat. Ace Hood, Nipsey Hussle, Yo Gotti)
12.Gunplay – Bitches Ain't Shit (Freestyle)
13.Trouble – Never Understand (Feat. Bun B)
14.Busta Rhymes – Cake (Feat. Reek Da Villian)
15.Purchase Swag Cheap [HomieGear.com Promo]
16.The Legendary Traxter – Hate Harder
17.B.O.B – Where Are You (B.O.B vs Bobby Ray)
18.MGK – See My Tears
19.E-40 – Catch A Fade (Feat. Kendrick Lamar, Droop-E)
20.Short Dawg – Stay Leanin (Freestyle) (Feat. Duck, A-Holla)
21.Glasses Malone – Rare Breed (Feat. T Lopez)
22.Chamillionaire – U Gon Learn (Feat. Saigon)
23.Jim Jones – 60 Rackz
24.Kevin McKall – Go To Waste
25.Mike Posner – Chameleon
26.JaMiss – Champtron (Feat. Big Sean)
27.E-40 – Tryna Get It (Feat. Twista, T-Pain) (Explicit)
28.Madonna – I Don't Give A Fuck (Feat. Nicki Minaj)
29.DJ All Style – 3D Mix 2.0
30.Nicki Minaj – Pink Friday Roman Reloaded [Bonus Album Preview]
Скачать "Biggy Jiggy – Exclusive Tunes 3D 2 (2012)"
Информация
Посетители, находящиеся в группе Гости, не могут оставлять комментарии к данной публикации.