Whiteowl Drop That Pt 206 (2012)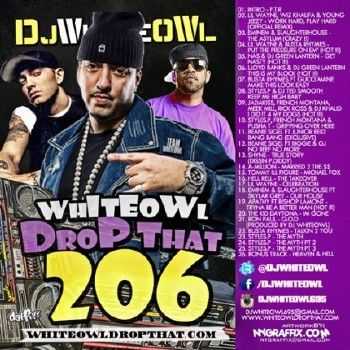 Исполнитель:
V.A.
Альбом:
Whiteowl Drop That 206
Жанр:
Rap, Hip-Hop
Год выпуска:
2012
Формат/Качество:
192 Kbps
Размер:
131 Mb
Гости:
LIL WAYNE, BUSTA RHYMES, NAS, LLOYD BANKS, STYLES.P, Eminem...
Треклист:
1.INTRO - F.T.R
2.LIL WAYNE - WIZ KHALIFA & YOUNG JEEZY - WORK HARD PLAY HARD (OFFICIAL REMIX)
3.Slaughterhouse - Asylum (Feat. Eminem)
4.LIL WAYNE & BUSTA RHYMES - PUT THE PRESSURE ON EM' (HOT !!!!)
5.NAS & DJ GREEN LANTERN - GET NASTY (CRAZY !!!)
6.LLOYD BANKS & DJ GREEN LANTERN - THIS IS MY BLOCK (HOT !!!)
7.BUSTA RHYMES FT GUCCI MANE - I MAKE THIS LOOK EASY
8.STYLES.P & DJ TED SMOOTH - KEEP ME HIGH BABY
9.DJ Khaled - I Did It For My Dawgz (feat. Rick Ross, French Montana, Jadakiss & Meek Mill)
10.STYLES.P, FRENCH MONTANA & PUSHA T - GRIPPING OVER HERE
11.Beanie Sigel - Bang Bang Youth (feat. Junior Reid) (Explicit)
12.BEANIE SIGEL FT BIGGIE & G.I - NO BEEF NO MORE
13.SHYNE - TRUE STORY (DISSIN P.DIDDY)
14.A-MILLION - MARRIED 2 THE $$$
15.TOMMY ILL FIGURE - MICHAEL FOX
16.HELL RELL - THE TAKEOVER
17.LIL WAYNE - THE CELEBRATION
18.Slaughterhouse - Our House Feat Eminem and Skylar Grey
19.APATHY FT BISHOP LAMONT - TRYNA BE A BETTER MAN
20.THE KID DAYTONA - IM GONE
21.RON PAUL - THE G.O.D (PROD BY DJ WHITEOWL)
22.BUSTA RHYMES - IM TALKIN 2 YOU
23.STYLES.P - THE MYTH
24.STYLES.P - THE MYTH PT 2
25.STYLES.P - THE MYTH PT 3
26.BONUS TRACK
Скачать Whiteowl Drop That 206 (2012)
:
Информация
Посетители, находящиеся в группе Гости, не могут оставлять комментарии к данной публикации.