Whiteowl Drop That 207 (2012)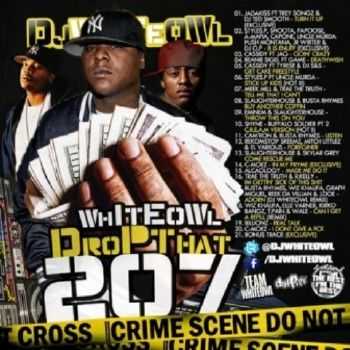 Исполнитель:
Сборник
Страна:
USA
Альбом:
Whiteowl Drop That 207
Жанр:
Rap | Hip - Hop
Год выхода:
2012
Формат:
mp3 | 192 Kbps
Размер:
109.58 Mb
Треклист:
1.JADAKISS FT TREY SONGZ & DJ TED SMOOTH – TURN IT UP (EXCLUSIVE)
2.STYLES.P, SHOOTA, PAPOOSE, A-MAFIA, CAPONE, UNCLE MURDA, PUSH MONTANA, JR WRITER & DJ O.P – 8 IS EN
3.CASSIDY FT JAG – IT'S GETTIN CRAZY (HOT !!!)
4.BEANIE SIGEL FT GAME – DEATHWISH
5.CASSIDY FT TYRESE & DJ S&S – GET CAKE FREESTYLE
6.STYLES.P FT UNCLE MURDA – STICK UP KIDZ (HOT !!!)
7.MEEK MILL FT TRAE THE TRUTH – TELL ME THAT I CAN'T
8.Slaughterhouse – Coffin
9.Slaughterhouse – Throw That
10.SHYNE – BUFFALO SOLDIER PT 2 (C.R.E.A.M VERSION) HOT !!!
11.CAM'RON & BUSTA RHYMES – LISTEN
12.REKOMSTOP SKEEMZ, MITCH LITTLEZ & EL VARIOUS – FORIEGNER
13.SLAUGHTERHOUSE & SKYLER GREY – RESCUE ME
14.C-MOEZ – IN MY PRYME (EXCLUSIVE)
15.ALCAOLOGY – MADE ME DO IT
16.TRAE THE TRUTH & R.KELLY – IM GETTIN SICK OF THIS SHIT
17.BUSTA RHYMES, WIZ KHALIFA, GRAFH, MIGUEL, REEK DA VILLIAN & J.DOE – ADORN (REMIX)
18.WIZ KHALIFA, ELLE VARNER, KIRKO BANGZ, T.PAIN & WALE – CAN I GET A REFILL (REMIX)
19.BILLIONZ – REAL TALK (EXCLUSIVE)
20.C-MOEZ – I DONT GIVE A FCK (EXCLUSIVE)
21.BONUS TRACK (WORLD PREMIERE)
Скачать "Whiteowl Drop That 207 (2012)"
Информация
Посетители, находящиеся в группе Гости, не могут оставлять комментарии к данной публикации.