Sebastian Hardie - Four Moments (1975) [Japan Mini-LP CD 2004]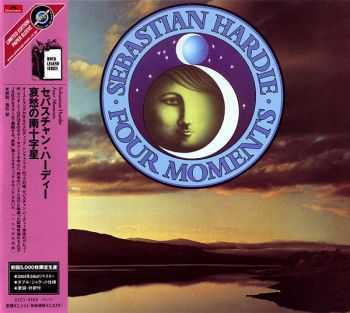 Sebastian Hardie - Four Moments (1975) [Japan Mini-LP CD 2004]
Mp3 CBR 320 kbps | 95.32 Mb | Scans | Time: 39:44
Genre: Progressive Rock, Symphonic Prog | Label: Polydor | Cat.#: UICY-9468
When Sebastian Hardie's debut album was released in 1975, the term "Symphonic Rock" was born in Australia. Featuring lush symphonic keyboard sounds you would expect to hear from an orchestra and the melodic, soulful guitar of Mario Millo, "FOUR MOMENTS" has become one of the all-time classic Progressive albums of the seventies. Re-released on CD some twenty-five years after its original release, this timeless music remains in demand world wide.
One of Australia's truly acclaimed bands of the 70's fronted by the very talented Mario Millo. SEBASTIAN HARDIE were a progressive rock band that sounded a little like Yes, and described their music as "symphonic rock". A four piece band with Millo on guitar, mandolin and vocals, Peter Plavsic on bass, Alex Plavsic on drums / percussion, and Toivo Pilt on Moog synthesizer, mellotron, piano and organ.
Sebastian Hardie the band, lasted four years, (1973-76) releasing two albums: "Four Moments" (1975 Polydor) which was co-produced with John English, and "Windchase" (1976 Polydor). Four moments is definitely the better album with a mystical feel to it, beautifully showcasing Mario's unique guitar style sounding marginally like slide guitar by using the volume control on his guitar giving his instrument a hauntingly beautiful wind-like sound.
Sebastian Hardie
|
Mario Millo
|
Wikipedia
|
Progarchives
Track Listing
1. Four Moments - 1: Glories Shall Be Released (6:40)
2. Four Moments - 2: Dawn Of Our Sun (5:06)
3. Four Moments - 3: Journey Through Our Dreams (6:43)
4. Four Moments - 4: Everything Is Real (2:10)
5.
Rosanna
(6:03)
6. Openings (13:02)
Produced by Jon English
The Band
Mario Millo: Guitars, Mandolins, Vocals
Peter Plavsic: Bass
Alex Plavsic: Drums, Percussion
Toivo Pilt: Moog, Mellotron, Piano, Organ
Ⓟ & Ⓒ 1975 Universal Music International
24-bit Remastered 2004
*****
Download
Uploaded
|
Turbobit
|
Rusfolder
Информация
Посетители, находящиеся в группе Гости, не могут оставлять комментарии к данной публикации.