Velvet Night - Velvet Night (1970) [Reissue 2008]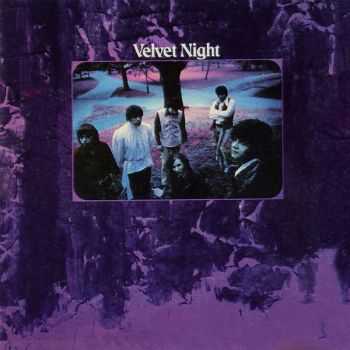 Velvet Night - Velvet Night (1970) [Reissue 2008]
MP3 CBR 320 kbps | 101.23 Mb | Scans | Time: 42:12
Genre: Psychedelic Rock | Label: Fallout Records | Cat. №: FOCD2083
Recorded in New York's Record Plant under the guidance of cult producers Jimmy Curtiss and Steve Kanyon (best-known for their involvement with popsike favourites the Hobbits and the New Hobbits), this Italian-American psych rarity originally appeared in 1970 and has barely been heard since. A mixture of covers of songs by Cream, Donovan, the Band and Tim Hardin and eerie originals such as the hard acid-rock title track, it's presented here complete with an ultra-rare bonus track taken from their sole 45.
"And the sun was frozen in the darkness and a hush encompassed the world, and the world was locked in the twilight of a Velvet Night." - Frank Chiaro
The end of death and back to birth. The end of hate and back to love. The end of fear and back to truth. The end of war and back to peace. The end of greed and back to giving. The end of need, of searching, of empty. The end of lost and back to found. Back to God, to Him, the Spirit. Home... Free... But not now. First we must journey into that night, that night of death and holocaust. That night when the heavens spit fire upon the earth and the earth vomits and trembles and land rises and falls and breaks away, and the oceans swallow up countries and continents, and you will see it and hear it and then you will know for all time that you are the universe, and the cosmic and the spirit. Velvet Night is the twilight, the middle ground that is neither the end nor the beginning, but both at once, fused together for an instant. That is their music and their life. And that is you and I. - original album notes, 1970
Amazon
|
Allmusic
Track Listing
1.
Season Of The Witch
(7:04)
2. Velvet Night (2:59)
3.
Freak Show
(3:44)
4. Tribute (9:15)
I Feel Free
Sunshine Of Your Love
White Room
I'm So Glad
5. The Weight (5:04)
6. Edge Of The Woods (3:27)
7. Don't Let Them Stand In Your Way (2:57)
8. If I Were A Carpenter (5:05)
9. I'm Sure He'll Come Most Anytime (Bonus track) (2:37)
Produced by Jimmy Curtiss and Steve Kanyon
The Band
Frank Chiaro - bass / vocals
Tony Faranda - guitar / vocals
Doug Catuogno - percussion / vocals
Lynn Boccumini - lead vocals
Vinnie Nisi - keyboards / vocals
Peter Fuino - saxophone / recorder / vocals
*****
Download
Uploaded
|
Turbobit
|
Rusfolder
Информация
Посетители, находящиеся в группе Гости, не могут оставлять комментарии к данной публикации.