Nelson - After The Rain (1990)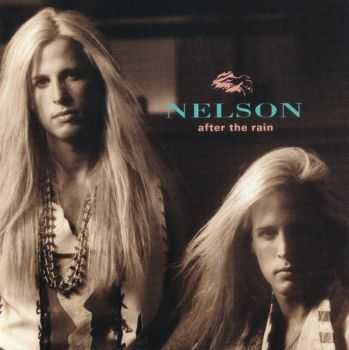 Performer: Nelson
Album: After The Rain
Label: DGC
Catalog #: D2-24290
Style: Glam Rock, Arena Rock
Year: 1990
Format: Flac (*image + .cue,log,scans)/ mp3
Bitrate: lossless/ 320 kbps
Covers: in archive
Amount of tracks: 10
Size RAR: ~ 374 MB/ ~ 111 MB
Upload: deposit, rusfolder
Recovery: 3%
Password: sim-sim

After the Rain - дебютный альбом братьев близнецов Matthew и Gunnar Nelson вышедший в 1990. Альбом был коммерчески успешным и достиг 17 позиции в Billboard 200. По итогам продаж в октябре 1990 альбом получил золотой сертификат, в январе 1991 платиновый сертификат, и в июле 1998 2.00x мулти платиновый серификат.
Когда сингл из этого альбома, Love and Affection, достиг 1 отметки в чартах, Nelsons включили в Книгу рекордов Гиннеса, как единственную семью, члены которой в трех поколениях последовательно занимали первую строчку в хитпарадах. Их дед, Ozzie Nelson с песней And Then Some занял первую строчку в pop singles chart в 1935, их отец, Ricky Nelson, занимал первую строчку с хитами Poor Little Fool в 1958 и Travelin' Man в 1961.
Братья продолжают гастролировать и работать в студии. Их последний альбом Peace Out вышел в мае 2015.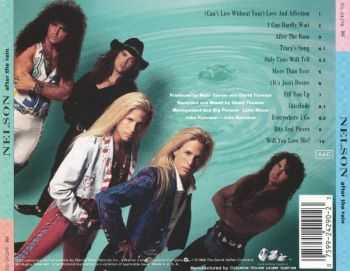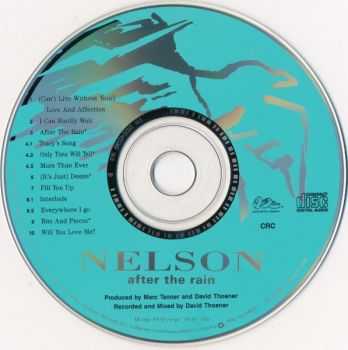 1. (Can't Live Without Your) Love And Affection (3:56)
2. I Can Hardly Wait (4:23)
3. After The Rain (4:05)
4. Tracy's Song - Only Time Will Tell (5:21)
5. More Than Ever (3:30)
6. (It's Just) Desire (4:26)
7. Fill You Up (4:40)
8. Interlude - Everywhere I Go (6:37)
9. Bits And Pieces (4:06)
10. Will You Love Me? (4:21)
Информация
Посетители, находящиеся в группе Гости, не могут оставлять комментарии к данной публикации.