Sweet - Desolation Boulevard Revisited (LIve) 2012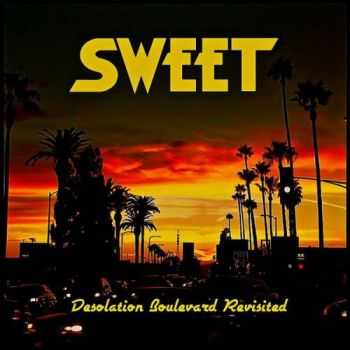 Исполнитель: Sweet
Страна: UK
Альбом: Desolation Boulevard Revisited (LIve)
Жанр: Hard Rock
Год выхода: 2012
Формат: MP3 CBR 320
Размер: 99 МБ
Комментарий лидера группы, Andy Scott'a:
«Desolation Boulevard» стал для нас в своё время настоящим прорывом и оказал значительное влияние на такие известные группы, как Kiss, Mötley Crüe или Def Leppard. Мне кажется, что эти песни до сих пор актуальны и отлично звучат и сегодня. Некоторые вещи с него многократно исполнялись в виде каверов самыми разными группами, многие песни с него вошли в наш постоянный сэт-лист. Теперь, в 2013 году, вы сможете послушать
«Desolation Boulevard Revisited» - концертное исполнение этого альбома почти сорок лет спустя после его выхода. Несмотря на это, поверьте, диск очень живой и энергичный! Он понравится любому фэну Sweet!
Pete Lincoln - Lead Vocals, Bass
Andy Scott - Guitar, Backing Vocals, Producer
Tony O'Hora - Keyboards, Backing Vocals
Bruce Bisland - Drums, Backing Vocals
Треклист:
01. Sweet F.A (6:10)
02. Heartbreak Today (4:28)
03. The Six Teens (4:44)
04. Restless (6:32)
05. No You Don't (4:10)
06. Into The Night (4:16)
07. Ac/Dc (3:40)
08. Fox On The Run (4:58)
09. Set Me Free (4:28)
10. Ballroom Blitz (5:42)
Скачать:
Без пароля
Информация
Посетители, находящиеся в группе Гости, не могут оставлять комментарии к данной публикации.